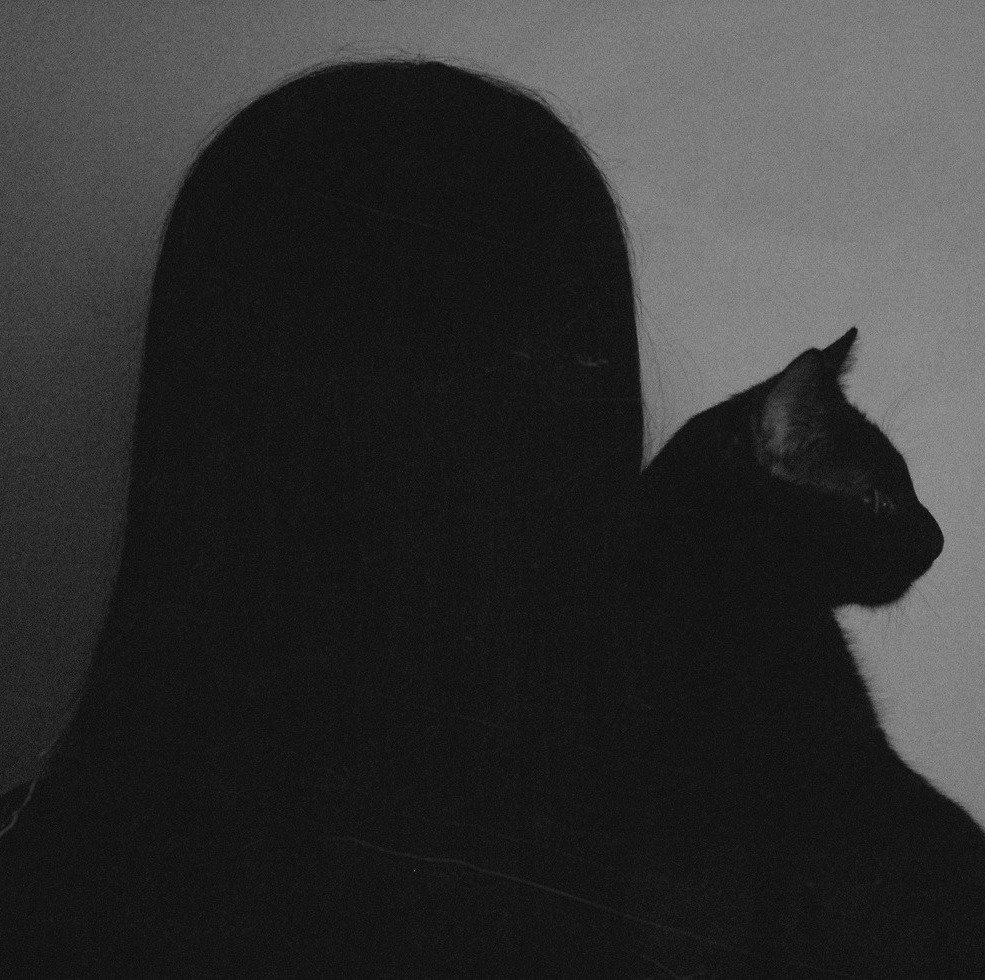 PICKS OF THE WEEK:
Sacramento, Ca lo-fi /minimal /darkwave /coldwave solo project of John Anton Malinowskj, EX-HEIR "DEATH'S DOOR" from 2-track single "MORTAL BURDEN"

Californian one-man band is back with a loud and energetic 2-track lo-fi racket. Our fave, the synth-punk tinged "Death's Door", unfastens heart-racing mechanical beats sputtering through an obsessive and hypnotic Suicide-like synthetic droning circularity, wrapped in a distorted and derailing chaos of pulsating, excruciating noise over loud dramatic shivering chants brimming with breathless blazing passions, setting fire at the doors of death.
Paris-based gothic /ethereal /dream pop /darkwave project founded by Ein Rijin of Evil Symbols and Bat Kalaayan, aka RITUEL ENCENS "Enna" (single)
Both distinctive and refined, lush, atmospheric and anodyne darkwave from the French duet, to create an all-embracing introspective and haunting sonic landscape, harmonizing the flows of eerily soothing somber organ-like fluting melodies with soft heart skipping beats and the penetrating sting of vibrating guitar chords around deep soulful female vocals long drawn out primal releases of tension, pain, and Cat meditating catharsis.
Darkwave/EBM/Synthwave female solo project from Turkey, BEWITCHED AS DARK "Odd"
Turkish dark electronic artist crafts an epic melancholy-driven, industrialized darkwave quest made of eerie, stirring, sparkling synth passages and buzzing flashing bass moods, amidst stomping cold beats and disturbing dragging sensations, to delve into the cold murky alleyways driven by arcane forces of vast desolation and wicked dreams.
Texan darkwave /post-punk /minimal synth /coldwave solo project of Houston based drummer Bruce Courtney, THE STAVE CHURCH " Unsaid" from V/A "Night Vibes 2" on At Sea Compilations

UK goth/darkwave project of Lea Torn, THE SECRET EXPERIMENT – "Underworld" from the CD EP "The Third Darkness"

French New Wave /Post-Punk /Coldwave band This Grey City "Strange Ways" from the forthcoming album "The Golden Age Of Lie" on Str8line Records

San Francisco, Ca new wave /shoegaze solo project (fka Sara Stuttgart), SONDERS "Destinesia" from the debut album "Reflection"

Italian post-punk /darkwave trio The Coventry "A Short Story" title track from the new EP "A Short Story" on SwissDarkNights Label

Belgium based new wave /synth wave /synthpop music project by guitarist/bassist and analog synthesizer Ignace De Lamper, aka Mystic Echo "Tide" (single)

Helsingborg, Sweden synthpop duo Cold Connection "Burning Love" from the debut album "Seconds of Solitude" on Russian label ScentAir Records
Istanbul dark synthpop/ post-punk one-man doomer band ALTAN 'Kurtar Beni' (single)

Glasgow based synth electronic duo HANGING FREUD "Too human" from the album "Persona Normal"

London based post-punk project of Jojo Orme, aka Heartworms – "Derelict" from V/A "Hideous Mink Collective VOL.1" on Brighton's Hideous Mink Records

French coldwave /synthwave /minimal synth project from Brittany of IRENE de Milo (bass, guitar and voice) & Boris Völt (drums, synth and guitars), Irène de Milo "Sans éternité" from the EP "

Trestel Rêve"



Austin//Boston darkwave /minimal synth /coldwave duo of Faiza Kracheni (vocals) & Travis Benson (synths), FLESH OF MORNING "Secret" from the upcoming debut album "Here In Heaven" on Blind Rage Records

French post-punk /new wave /coldwave artist from Toulouse, Leny Müh "Coup De Blues" from the debut vinyl 12″ LP "Capharnaüm" on Hidden Bay Records

Vienna-based indie /new wave /post-punk duo TENTS "Cold Bliss" from the new LP "Limbo"

Winnipeg, Canada electronic synth punk /new wave /synthpop project, VIVA NON "Alone" off Viva Non's 3rd studio album 'We Grow' on Negative Gain Productions

Parisian electro-pop project founded by Bruno Delouzilliere, DENSK "Orphans" from the new LP "Cosmic Expectations"

Baltimore, MD electronic/synth-pop/darkwave project of artist/producer Samuel Morgan, aka VACANT WINDOWS "Dying for You" new single

German minimal synth wave solo project, ESCHE YGGDRASIL "Tristesse Cliché" from the album "UNTERART"

French electro/cold-wave music duo from Paris, SYSTEME PARADOXE "Ne m'attend plus (Grey Version)" from upcoming V/A "Another Cold World 4" on Cold Beats Records

French minimal synth /cold wave project by Boris VölT from Rennes, MODE In GliANY Feat. LenoRe – "Eis" from the album "Mutisme de la Joie".
Brussels, Belgium post-punk /cold wave /darkwave duo PARTIKUL "I'm yours" from the upcoming album "Related memories" on Exit does not exist Records

Frankfurt-based EBM /dark post-punk /coldwave duo Babes of Enola Grey "Freiheit Sicherheit" from the debut album "Anfang vom Ende" soon on Crave Tapes.
Mexico City post-punk /minimal synth solo artist Demian Lair "Manifiesto 2" (Demo)
Bristol, UK goth /synthpop /darkwave /electronic solo project New Haunts "Still Dark Sky" title track from the new album "Still Dark Sky" out now on Cold Transmission

Athens, Greece darkwave/electro duo, Night Haze "The Light" from upcoming "Serial Dreamer" E.P.

Amsterdam based acid /electro /electropop /synthpop multimedia artist, Mila V – "Clear Eyes" from the upcoming "The Craze" EP

UK industrial /synthpop 4-piece Dreams Divide "Milk and Leather" title track from the EP "Milk and Leather" on Analogue Trash

Argentina electropop artist Maia Basso "Cajita de música" from the 2-track single "Bebe tu mal"

San Diego disco-punk /synthwave /synthpop duo, GLASS SPELLS "Thrills" (Single) on Negative Gain Productions

Bogotà, Colombia darkwave /synthpop /coldwave duo ANTIFLVX "Hilos" new single on skyQode

UK synthpop /dark rock duo AUGER "Dark Clouds" new single on darkTunes

Paris' dark electronic /post-punk /synthwave /electro /synth project of James Kent aka Perturbator "Lustful Sacraments" title track from the new album "Lustful Sacraments" on

Blood Music



Palmira, Colombia EBM /synthwave /minimal wave solo project HUMAN 80 "Dunkles Erwachen" on Nevel Records
Saint Petersburg, Russia electronic post-punk DJ, record producer, remixer, and songwriter OHOTA "ЭТО ТЫ"

Greek darkwave /minimal synth /analog cold electronics project EERIE SOPOR – "Tristful Hearts" title-track of the upcoming 5-track EP "The Plague That Lingers On The Plains" on Werkstatt Recordings

Palmira, Colombia EBM /industrial project of Anthony Said, Ein Sir – "Mission Tod" from the album "Lebendig und tot"

Swedish one-man shoegaze /darkwave /electro project of Göteborg's musician Andreas Lindh, D4RKSTAR "Lead Me Astray (Lønnkrog Operation Cue Remix)" from the new single "Lead Me Astray"

Brazil/German post-punk /synthwave collaboration between Thiago Desant (Phantoms vs Fire) and Alexander Donat (Vilmer), aka Distance Dealer "Confront!" from debut LP "Mind Dawns" on Blackjack Illuminist Records

Post-punk /synthwave project from México and Madison, Wi, JOSEFF DUSTER "Tecnic"
Derby, UK goth darkwave solo project Raging Rausch "Steps"
Spanish dark synth /darkwave solo project ₭ v ʟ † 0 "Huir"
Tabor, Czech Republic experimental post-punk band DIIST "256"
UK Goth /New Wave /Post-Punk duo SIBERIA "In A Different Place" from "Broken Things" EP on SwissDarkNights Label

Virginia's dark gothic rock project SONSOMBRE "Dance Forever" from the upcoming new album "Revival" on Cleopatra Records

Post-punk /darkwave /gothic rock band from Belgium, GROUND NERO "Promise" new single

Italian Darkwave/Post-Punk solo project IC2 "Far Away" (Single)

Italian post-punk trio from Naples, Hapax "Exile" title track from the "Exile" EP on Swiss Dark Nights

Philadelphia goth rock /post-punk /deathrock /darkwave /coldwave act, R E P – L ^ K N T – "Something to tell" from the album "Apparition"

German Post-Punk outfit from Hamburg, KONVOI "Patient Boy" from the debut EP

Brisbane, Australia goth /dark dream-pop /post-punk solo project Edith Thomas Furey – 'Evenings In The Park With Charles (Part 3)' from forthcoming EP 'Evenings In The Park with Charles' via 4000 Records

Noise jangly post-punk solo project from rural New Hampshire, OLD MOON "Ephemeral" from the upcoming album "Altars" on à La Carte Records

French experimental /post-punk /coldwave project of Yannick Rault, Closed Mouth – "Before" new single

Alaska-based gothic coldwave/darkwave artist, Bartram Haugh "Dark Islands (Single) off the album "November"

Ukrainian electronic /synthpop /post-punk group from Kherson, Stereo Kassety / Стерео Кассеты 'Солнце / Sun'
Kyiv, Ukraine indie rock /new wave /dream pop /post-punk solo project Night Excitement "Wasted" second single
Chicago, Il synth /new wave /post-punk brother duo Theodore and Ronnie Appert, aka Dramatic Shapes "Underwater Sound" new single

Texas indie /post-punk /new wave /dark pop trio Don't Get Lemon (DGL) "Working Man's Ballet" new 7″ flexi single via à La Carte Records

Tula, Russia goth /deathrock/ post-punk duo Культурное Наследие / KULTURNOE NASLEDIE – "Стены" from the debut album "Неизбежность" on Русский пост-панк

Seoul, South Korea surf rock/darkwave /post-punk project International Badboys Inc. "Habitual Residence" from the new album "Enjoy your stay,"

Bogota, Colombia indie /post-punk outfit El Futuro Es Ser Nómadas – "Identidad Errante" (Single) on ATHENAS Records

Italian darkwave /synthwave /post-punk side project of noise/industrial experimentalist Suture, LOVE OF CONSOLATION "Chains And Hopes" from the EP "Wither On A Spring Day"

Portland, Or post-punk project Marty Noir "Beekeeper" (single)

Dublin-based dreamwave band A RITUAL SEA "Desire Lines" new single on Icy Cold Records

French indie /psych /garage-pop /post-punk all-girl 4-piece ROSE MERCIE "Marie-Toi-De-Moi" from upcoming V/A "Spasmes du Hasard – 20+1 years of Sdz Records" via SDZ Records

Lyon based French coldwave /post-punk one-man band, formerly known as My Best Fiend, Meager Benefits "Bleach" from upcoming 4th cassette album "Station" on Hidden Bay Records

Berlin, Germany noise post-punk trio PIGEON "Relentless" from the upcoming second LP "Deny All Knowledge Of Complicity" on adagio830

Los Angeles based synth post-punk one-man-band Nass Zuruck "Memory lane" (Single)

UK weirdo /outsider /post-punk /art-punk solo project from London, Beige Banquet – "Mindless" from V/A "Hideous Mink Collective VOL.1" on Brighton's Hideous Mink Records

Brooklyn, NY indie rock /dream pop /post-punk /goth-pop trio Veda Rays"Dissonance" (Single)

Pittsburgh's post-punk / goth /darkwave solo project of film composer and electronic musician Josh Loughrey, Doors In The Labyrinth "A Gothic Love Song" (Originally by Current 93) from the EP "Thank You A Worthwhile Thing To Pray"